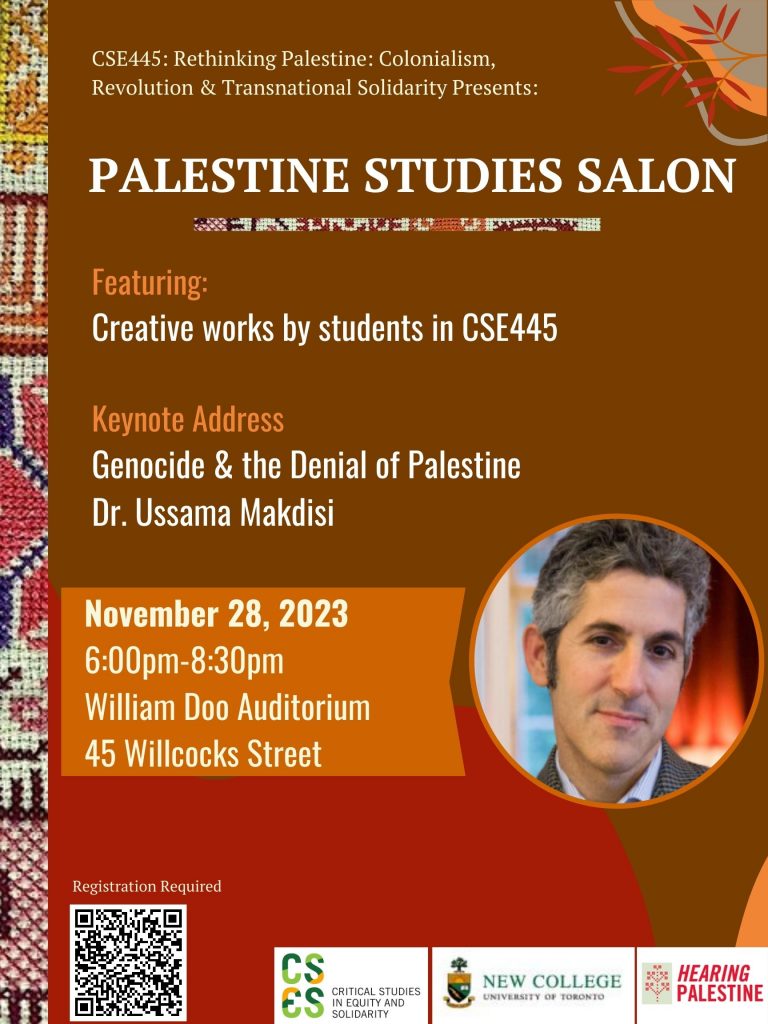 This event will feature creative works by students in CSE445, followed by a keynote lecture "Genocide and the Denial of Palestine" by Dr. Ussama Makdisi
6:-00pm – Gallery walk
6:30pm – Program begins
7:00pm – Keynote Lecture by Dr. Makdisi
Dr. Ussama Makdisi is Professor of History and Chancellor's Chair at the University of California Berkeley. He was previously Professor of History and the first holder of the Arab-American Educational Foundation Chair of Arab Studies at Rice University in Houston. Dr. Makdisi is the author of Age of Coexistence: The Ecumenical Frame and the Making of the Modern Arab World (2019), Faith Misplaced: the Broken Promise of U.S.- Arab Relations, 1820-2001 (2010), Artillery of Heaven: American Missionaries and the Failed Conversion of the Middle East (2008), and The Culture of Sectarianism: Community, History, and Violence in Nineteenth-Century Ottoman Lebanon (2000).
REGISTRATION DETAILS
IN-PERSON
To attend in person, please register on the eventbrite for your ticket.
Those that come in person will get an opportunity to see students' creative works and listen to the lecture in person. Light snacks will be served. For accessibility needs please contact Prof Desai at ch.desai@utoronto.ca
ONLINE
Folks online will only be able to view/hear Dr. Makdisi's lecture. Please register for the Zoom webinar for lecture only.