As the humanitarian situation in Gaza, Palestine has become extremely dire amidst the ongoing Israeli assault, Hearing Palestine is holding an emergency teach-in event on Palestine.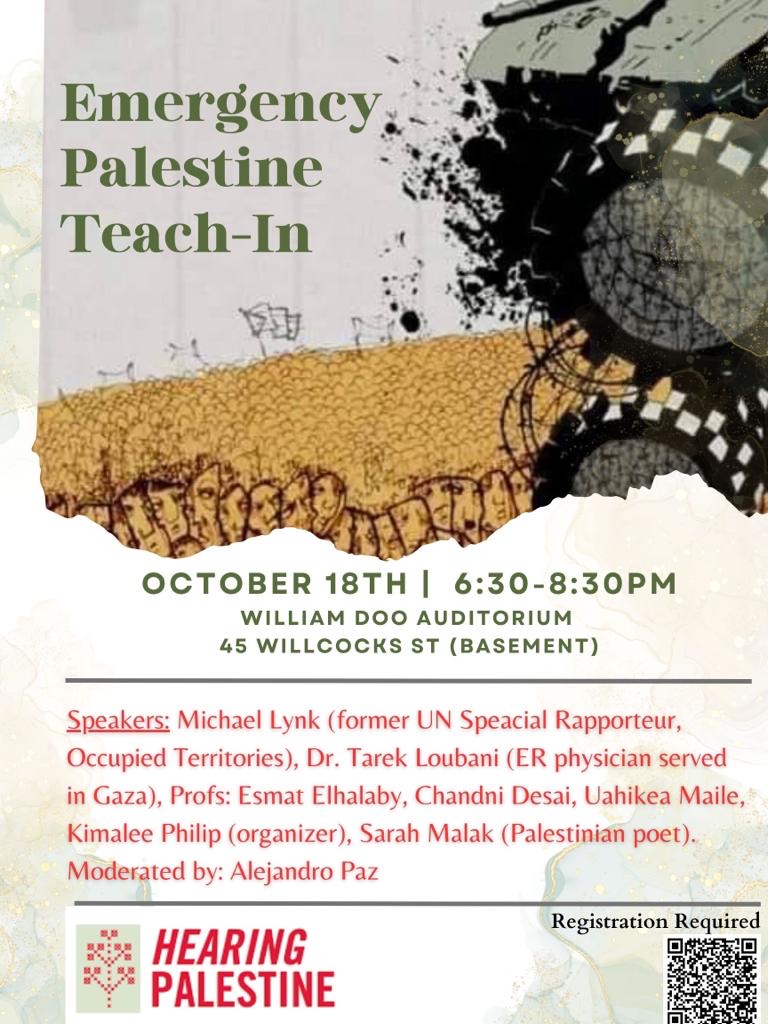 Date: Wednesday, October 18th
Time: 6:30 pm – 8:30 pm
This event will feature contributions from distinguished human rights experts, activists, and scholars, focusing on topics related to Palestine, global settler colonialism, and internationalism.
Speakers:
Michael Lynk
Former UN Special Rapporteur on Human Rights in the Occupied Territories & Law Professor
Dr. Tarek Loubani
Emergency Room Physician who served at the Al-Shifa hospital in Gaza and runs the Glia Project
Dr. Esmat Elhalaby
Assistant Professor of History, University of Toronto
Dr. Chandni Desai
Assistant Professor, Centre for the Study of the United States, University of Toronto
Dr. Uahikea Maile
Assistant Professor of Indigenous Politics, University of Toronto
Kimalee Philip
Organizer with Caribbean Solidarity Network
Sarrah Malek
Palestinian writer and spoken word poet
Register for the Zoom link here.